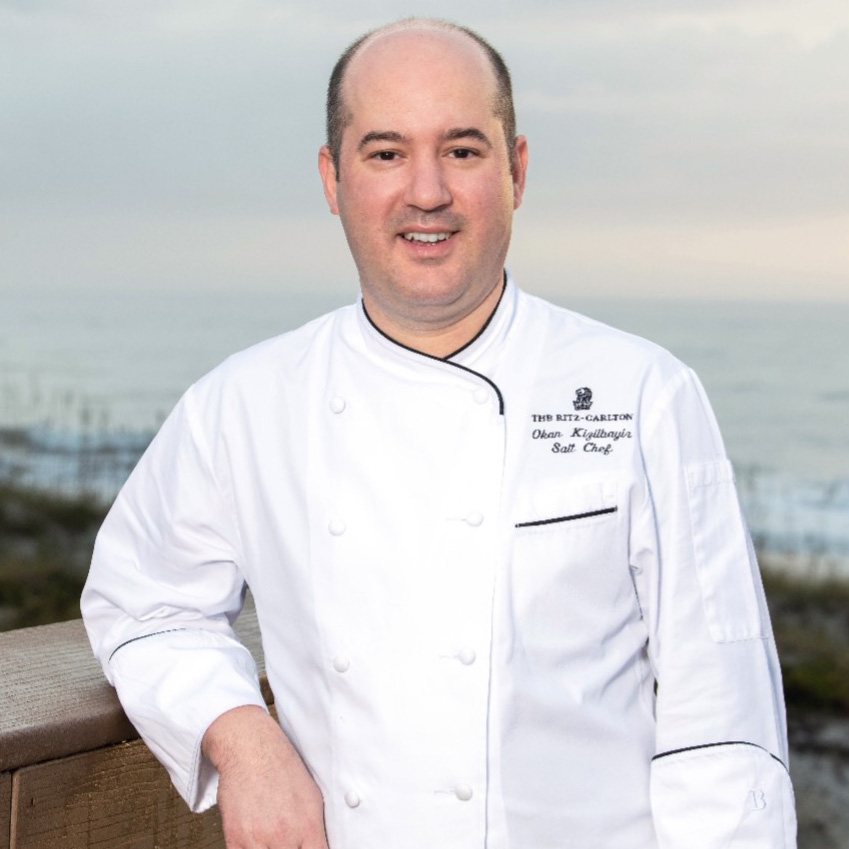 This snapper ceviche was one of the first dishes Chef Okan Kizilbayir put on the Salt menu when he first started in 2021. It is a very refreshing summer dish. This dish will pair well with our specially infused citrus salts, like our Lime Fresco Salt.
Ingredients (Makes 4 servings)
14 oz. Fresh Snapper Filet or a smaller fish, which will have less sinew, so it's easy to eat

 

2 ea. Whole Ears of Corn
1 cup Water
1/2 ea. Red Bell Pepper
1 ea. Jalapeño

1/4

bunch Cilantro
1/4 ea. Red Onion
1 ea. Avocado, ripe
4 ea. Limes
Extra Virgin Olive Oil

 

Citrus Salt
Espelette or Fine Red Chili Powder
Fish and Corn Preparation
Clean the snapper filets from the bloodline and slice them into ¼ slices or thinner, reserve odd scraps for the infusion. Set aside in the refrigerator.

 

Remove the kernels of corn and reserve ½ cup of corn for garnish.
Corn and Lime Infusion
Boil the rest of the corn in water with salt to cook. Cool in the water to infuse the corn flavor. Once cool, strain and reserve the corn water.
To the corn water, add chopped cilantro, sliced red onions, 2 slices of jalapeno with the seeds, juice of 3 limes and any leftover scraps of snapper. Let this sit in the refrigerator for at least one hour to build flavor.
Strain this mixture through a fine mesh sieve.

 

Season the flavored corn water liquid with the salt to taste.
Garnishes
With a hand blender, puree avocado with juice of 1 lime and a little salt until smooth.
Take the seeds out of jalapeño and red bell pepper and slice them into 1-inch-long slices.

 

Char the ½ cup of corn with a torch or a quick very hot sauté.
To Serve
Place the snapper slices on the plate and season with the citrus salt.
Place a dollop of the avocado puree on each piece of snapper.
Place a slice of jalapeno and red pepper on each slice.
Sprinkle the charred corn throughout the plate.
Pour the corn and lime infusion all over the plate.
Drizzle a little bit of extra virgin olive oil, espelette and more citrus

salt to finish.
Ingredients
Stew
1.5 lb. – Lamb, cubes
½ ea. – Onion, Spanish, medium size, diced
3 cloves – Fresh Garlic, sliced
3 tsp. – Smoked Paprika

 

1 tbsp. – Tomato Paste

 

3 cups – Water, or light chicken stock
Eggplant Mornay
2 ea. – Eggplant, medium size
1 tbsp. – Flour, All Purpose
1 tbsp. – Unsalted Butter
1 cup – Milk, warm

 

Nutmeg, whole
½ cup – Gruyere Cheese, grated

 
Salad
1 – Red Onion, medium size
½ bunch – Parsley, flat

 

1 tbsp. – Sumac
2 tbsp. – Extra Virgin Olive Oil
Preparation
Stew 
Start with the stew because it will take the most time. 
On a tray, lay down lamb cubes and season it with salt and cracked black pepper.

 

In a medium pot, sear the lamb meat to golden brown with grapeseed oil and add onion/garlic; sauté for 2-3 minutes on medium heat.

 

Add tomato paste, cook the moisture out of it and sprinkle smoked paprika.
Add water (preferably light chicken stock), bring it to boil, simmer till the meat is tender.
Eggplant Mornay
Secondly, poke the eggplants with a knife and bake them in the oven until its tender. Use parchment paper and a tray to keep it clean. After it cooks, peel and chop the eggplant.

 

In a medium saucepan, combine butter and flour to make a roux. Make sure to cook out the raw flavor of flour.

 

Add half a cup of warm milk and whisk it to not to become clumpy. Add the rest of the milk and let it cook for 3-4 minutes. If it is clumpy, strain it from a sieve.

 

Add grated Gruyere cheese and whisk it. Finally add chopped eggplant, salt, pepper and micro-plane nutmeg to taste.
Salad
Cut the red onion into 4 and slice it very thin longways.

 

Season it with salt, sumac, olive oil and add picked parsley leaves.
To Serve:
To plate, take 2 tablespoons of eggplant mornay and flattened on a plate. Serve the lamb stew on top of Eggplant Mornay. Serve salad cold on the side of  lam stew.
Coquina recipes are an island state-of-mind, paying tribute to its rich history. This dish fuses several traditions– Latin, Puerto Rican, Floridian, African, into one satisfying dish. The Afro-Caribbean in origin, "dirty rice" gets its name from the mixture of simmered spices and toasty bits of pepper, onion and garlic crust that gives it a stained look.
Whole Snapper (2 lbs.)
2 tbs Achiote Butter
1 cup White Rice (cooked)
1 cup Pinto Beans
1 each Banana Leaf
Achiote Butter
1 lb Unsalted Butter (softened)
2 tbs Achiote Paste
1 each Lime (juiced)
1 tbs Salt
In a bowl, mix all ingredients until fully incorporated. Set aside, hold at room temperature
Pinto Beans
1 ea Red Onion
1 ea Red Bell Pepper
2 ea Garlic Clove
1 bu Cilantro
1 can Pinto Beans
In a food processor, mix onions, bell pepper, garlic and cilantro
Add oil to a saucepan and cook the vegetable mixture on medium heat
Add beans and simmer for 15 minutes
To prepare the dirty rice, mix beans and rice in a saute pan to achieve some crust
Fish
To cook the fish, line a pan with the banana leaf and set the fish on top. Rub the flesh of the fish with the achiote butter and cook in a 400⁰ F oven for 8 minutes.
Ingredients
2 loaves Brioche Bread, crust cutoff and diced
3 cups Mayo
¾ cup Dijon Mustard
¾ cup Lemon Juice
¾ cup Old Bay
2 bunches Parsley, chopped
4 ea Yellow Onions, diced
12 ea Bell Peppers, diced
8 cans Crab Meat
8 whole Eggs
Method
Cut crust off brioche and toast for breadcrumbs
Dice the rest of the bread and place in large bowl
Sauté peppers and onions until tender, drain off as much liquid as possible and cool
Add the mayo, mustard, lemon juice, seasonings, onions, peppers, parsley and eggs to the bread and mix together well
Gently fold in the crab meat
Add bread crumbs to the mixture if necessary
Shape crab cakes and dust with bread crumbs and hold for service
Not your regular old-fashioned, but a gloriously elevated experience. Extravagantly presented under a cloche, hardwood smoke accentuates the sweet and vanilla notes of the whiskey while Luxardo cherry and a twist of citrus pierce the tongue with a gentle acidity.
2 oz 1792 Small batch bourbon
½ oz St. Germain Liqueur
2 dashes Orange Bitters
1 White sugar cube
Garnished with Luxardo cherries and orange peel
Build cocktail in shaker tin, add ice, stir with a cocktail spoon and strain over fresh ice in a rocks glass
As pretty as a beachside sunset, the Set Sail Martini will have you feeling shipshape. This pink-hued blend of Florida citrus, pomegranate and the delicate perfume of rose, enchant you with each sip.
1 ½ oz Ketel One Grapefruit and Rose vodka
1 oz House-made pomegranate syrup
2 oz Fresh grapefruit juice
Garnished with a rose petal and dehydrated orange slice
Pour all ingredients into a shaker tin, add ice, shake vigorously and strain into a martini glass and enjoy!
As traditional as a trip to the shore in summer, Chef Heidi'scaramel recipe uses salt created specifically for the resort.
Ingredients
Full Batch
Half Batch
Unsalted butter
Heavy cream
Fleur de Sel
Glucose syrup
Sugar, granulated
3 ½ lbs
4 ½ cups
1 ¾ tbsp
1 ¼ cup
8 ½ cups
1 ¾ lbs
2 ¼ cups
3 tsp
10 tbsp
4 ¼ cups
---
Notes
Glucose can be purchased in most craft stores (i.e.Michaels) in the cake decorating or candy sections.
Be careful, it's extremely sticky. The best way to measure it is by wetting your hand with hot water and using your hand to scoop.
Fleur de Sel should be available at an upscale grocery store or specialty food store.
A full batch makes about 300 caramels and uncut is the size of a commercial sheet pan. Making the half-size recipe would be more manageable in a home kitchen. You'll need a Silpat silicone baking mat to line the tray that you plan on pouring the caramel out onto. You will also need a candy thermometer or a digital thermometer that will read temperatures up to 255° Fahrenheit
Preparation
In a medium saucepan, heat the butter, heavy cream, and fleur de sel until the mixture starts to simmer. Remove from heat and set aside. In a large pot, place the sugar and glucose, add enough water to the sugars so that when mixed, the sugars resemble wet sand. Using a pastry brush, wash the sides of the pot with water so that there is no sugar on the sides. Otherwise, your sugar will crystallize.
Cook the sugar on high with a lid covering the pot. Remove the lid once the sugars have dissolved and the mixture is bubbling. Once the sugar reaches a light amber color, slowly and carefully pour the 1/3 of the cream mixture on top of the sugar and whisk. Be careful as the mixture is going to bubble up and release a lot of steam. Repeat until you have used all the cream mixture.
Place your thermometer into the sugar and continue to cook the sugar until it reaches 255°. Occasionally whisk the sugar while the temperature is rising. Have your a silpat-lined tray ready on a heat-resistant surface. Once the caramel reaches temperature, pour the liquid out onto the Silpat. Again, be careful as to the sugar is extremely hot.
Let set for 4 hours. Run a knife around the sides of the pan and flip the caramel out onto a cutting board. Sprinkle with extra fleur de sel, cut, and enjoy! Don't be discouraged on your first attempt at this recipe. It took me at least five tries to finally reach the consistency I wanted for the caramels. Keep trying and you can always eat the mistakes!